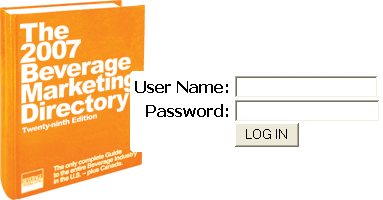 New! Multi-User On-line Licenses
(Available for Full 2007 BMC Directory Database Only)
This powerful new system offers a new level of flexibility for 2007 BMC Directory users. By using a powerful, easy to use interface, authorized users can return to the 2007 Beverage Marketing Directory website again and again to produce customized distribution reports, mail and call lists, territory and brand reports and more. Licenses are available for three users and up.
Easy to use:

1) insert user name and password
2) Select beverage categories
3) Select filter criteria
4) Download data
Uses/Benefits:
Access from anywhere
Slice and dice company profile data to produce custom reports.

i.e. one day you need to know which companies in your region have more than 50 trucks and the next day you're interested in viewing all distributors that carry a particular brand, you can produce custom reports in just a few minutes
Return to system again and again to produce custom data runs

Allow multiple district managers or member of sales/marketing teams to access the specific data they require
Enable research staff to customize data output to facilitate their analysis
Multiple locations get immediate access to company profile data via on-line access
Develop targeted mail and call list
Manage customer/prospect relationships
Cost: 1-3 users: $6,995. Additional users $600 per user.