2012 Snack Food in the U.S. (Spring)
CD: $2,995 (Single User Only)
Book: $2,995
Both: $3,395
BMCDataDirect Internet delivery: 3-user license $3,595;
Call for multi-user discount prices
BMCDataDirect Internet delivery: 3-user license + Book: $3,995
Multi-user CD (via corporate intranet/network server) Call Charlene Harvey (formerly Salito) @ 212-688-7640 ext. 1962 for pricing
WHAT GOES BETTER WITH BEVERAGES THAN SNACKS? Through our BMC Information Services Group, Beverage Marketing explores trends in an area that often shares usage occasions as well as certain challenges with beverages: snack foods. This report covers all segments of the diverse packaged snack food industry, from salty to sweet and everything in between, examining market trends and recent industry developments. It also profiles leading companies, including those also involved with beverages, such as PepsiCo and Kraft, as well as food giants like ConAgra and General Mills and snack food-centric entities like Herr Foods and Hostess Brands. Other chapters address pricing, advertising and demographics. The report also contains Beverage Marketing's exclusive five-year projections.
More than 200 pages, with extensive text, graphs, charts and tables.
Call Charlene Harvey (800) 275-4630 ext. 1962 or (212) 688-7640 ext. 1962 for more information or to place an order.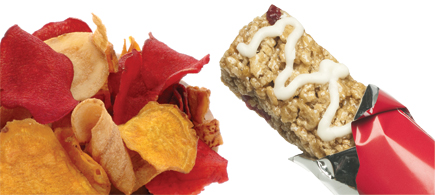 TABLE OF CONTENTS i
TABLE OF EXHIBITS viii
DEFINITIONS USED IN THIS REPORT xiii
INTRODUCTION xv
---
CHAPTER
1. THE U.S. SNACK FOOD MARKET
The Packaged Snack Food Market pg..........1

Overview pg..........1
Wholesale Dollars pg..........2
New Products pg..........3
Issues and Trends pg..........3
Seasons pg..........13

Exhibits pg..........14
2. THE U.S. SNACK FOOD AND CANDY MARKETS BY SEGMENT
The Snack Food Segments pg..........17

Overview pg..........17
Cereal Snacks pg..........18
Cheese Snacks pg..........18
Cookies pg..........19
Corn Snacks pg..........19
Fruit Snacks pg..........20
Granola pg..........20
Meat Snacks pg..........21
Party Mix pg..........21
Popcorn pg..........21
Potato Chips pg..........22
Pork Rinds pg..........23
Pretzels pg..........23
Snack Bars pg..........23
Snack Crackers pg..........24
Snack Nuts pg..........25
Tortilla Chips pg..........25
Others pg..........25

The U.S. Candy Market pg..........26

Overview pg..........26
Segments pg..........26
Distribution Channels pg..........27

Exhibits pg..........28
3. THE REGIONAL SNACK FOOD MARKETS
The Regional Packaged Snack Food Markets pg..........37

Overview pg..........37
Wholesale Dollars pg..........38

Exhibits pg..........39
4. THE LEADING SNACK FOOD COMPANIES AND THEIR BRANDS
The Leading Companies pg..........45

Overview pg..........45
Leading Companies by Segment pg..........47
Leading Brands by Segment pg..........50

Campbell Soup Company pg..........54

Overview pg..........54
Pace pg..........56
Pepperidge Farm pg..........56

ConAgra Foods pg..........60

Overview pg..........60
Andy Capp's pg..........62
Crunch 'n Munch pg..........63
David Seeds pg..........63
Fiddle Faddle pg..........64
Poppycock pg..........64
Slim Jim pg..........64

Diamond Foods pg..........66

Overview pg..........66
Emerald pg..........68
Kettle pg..........69

General Mills pg..........71

Overview pg..........71
Betty Crocker pg..........72
Bugles pg..........73
Cascadian Farm pg..........73
Chex pg..........74
Fiber One pg..........74
Gardetto's pg..........75
Lärabar pg..........75
Nature Valley pg..........76

Herr Foods pg..........78

Overview pg..........78
Herr's pg..........78

Hostess Brands pg..........80

Overview pg..........80
Dolly Madison Cakes pg..........81
Drake's Cakes pg..........82
Hostess pg..........82

Kellogg pg..........84

Overview pg..........84
Austin pg..........87
Carr's pg..........87
Cheez–It pg..........88
Chips Deluxe pg..........89
Club pg..........89
E.L. Fudge pg..........90
Famous Amos pg..........90
Fudge Shoppe pg..........90
Gripz pg..........91
Jack's pg..........91
Jackson's Old Fashioned pg..........91
Keebler pg..........92
Kellogg's pg..........92
Mother's pg..........93
Murray pg..........93
Nutri–Grain pg..........94
Rolls pg..........94
Sandies pg..........94
Soft Batch pg..........95
Special K pg..........95
Toasteds pg..........96
Town House pg..........97
Vienna Cremes pg..........97
Vienna Fingers pg..........97
Wheatables pg..........98
Zesta pg..........98

Kraft pg..........99

Overview pg..........99
Barnum's Animals pg..........101
Cameo pg..........102
Chips Ahoy pg..........102
Corn Nuts pg..........102
Flavor Originals pg..........103
Garden Harvest pg..........103
Ginger Snaps pg..........104
Honey Maid pg..........104
Kraft pg..........104
LU pg..........104
Mallomars pg..........105
Mixers pg..........106
Nabisco pg..........106
Newtons pg..........106
Nilla Wafers pg..........107
Nutter Butter pg..........107
Oreo pg..........108
Peek Freans pg..........108
Planters pg..........109
Red Oval Farms pg..........111
Ritz pg..........111
Snackwell's pg..........112
Teddy Grahams pg..........112
Triscuit pg..........112
Wheat Thins pg..........113

McKee Foods pg..........114

Overview pg..........114
Little Debbie pg..........114
Sunbelt pg..........115

PepsiCo pg..........116

Overview pg..........116
Baken–ets pg..........119
Cheetos pg..........119
Chester's pg..........120
Cracker Jack pg..........121
Doritos pg..........121
Flat Earth pg..........123
Frito–Lay pg..........123
Fritos pg..........123
Funyuns pg..........124
Grandma's pg..........124
El Islenopg..........125
Lay's pg..........125
Matadorpg..........126
Maui Style pg..........126
Miss Vickie's pg..........127
Munchies pg..........127
Munchos pg..........127
Nut Harvest pg..........128
Oberto pg..........128
Quaker pg..........128
Rold Gold pg..........131
Ruffles pg..........131
Sabra pg..........131
Sabritones pg..........132
Santitas pg..........133
SmartFood pg..........133
Spitz pg..........134
Stacy's Pita Chips pg..........134
Sunchips pg..........134
Tostitos pg..........135
TrueNorth pg..........136

Procter & Gamble Company pg..........137

Overview pg..........137
Pringles pg..........137

Sargento Foods pg..........140

Overview pg..........140
Sargento Natural Cheese Snacks pg..........140

Shearer's Foods pg..........142

Overview pg..........142
Shapers pg..........142
Shearer's pg..........142
Tangos pg..........143

Snyder's–Lance pg..........144

Overview pg..........144
Archway pg..........144
Snyder's of Hanover pg..........145

Utz Quality Foods Inc. pg..........146

Overview pg..........146
Utz pg..........146

Exhibits pg..........150
5. U.S. SNACK FOOD AND CANDY PRICING
Snack Food Pricing pg..........195

Overview pg..........195
Producer Prices pg..........196
Consumer Prices pg..........196
Retail Prices pg..........197

Candy Pricing pg..........198

Overview pg..........198
Producer Prices pg..........198
Consumer Prices pg..........198

Exhibits pg..........200
6. U.S. SNACK FOOD AND CANDY ADVERTISING EXPENDITURES
Snack Food Advertising pg..........205

Overview pg..........205
Leading Advertisers pg..........206
Advertising Expenditures by Media pg..........212

Candy Advertising pg..........215

Overview pg..........215
Leading Advertisers pg..........215
Advertising Expenditures by Media pg..........216

Exhibits pg..........219
7. U.S. SNACK FOOD DEMOGRAPHICS
The Snack Food Consumer pg..........231

Overview pg..........231
Age pg..........232
Education pg..........233
Occupation pg..........234
Marital Status pg..........235
Ethnicity pg..........236
Region pg..........236
Income pg..........236

The Snack Nuts Consumer pg..........238

Overview pg..........238
Age pg..........238
Education pg..........239
Occupation pg..........240
Marital Status pg..........241
Ethnicity pg..........241
Region pg..........242
Income pg..........242

The Snack Bar Consumer pg..........244

Overview pg..........244
Age pg..........244
Education pg..........245
Occupation pg..........246
Marital Status pg..........246
Ethnicity pg..........247
Region pg..........248
Income pg..........248

Exhibits pg..........250
8. THE PROJECTED U.S. SNACK FOOD AND CANDY MARKETS
The Projected Snack Food Market pg..........253

Overview pg..........253
Wholesale Dollars pg..........254
Wholesale Dollars by Segment pg..........254

The Projected Candy Market pg..........256

Overview pg..........256
Wholesale Dollars pg..........256
Wholesale Dollars by Segment pg..........256

Exhibits pg..........258
EXHIBIT
1. THE U.S. SNACK FOOD MARKET
1.1 U.S. Snack Food Market Estimated Wholesale Dollars and Growth 2003 – 2011 pg..........14
1.2 U.S. Snack Food Market New Product Introductions by Segment 2008 – 2011 pg..........15
1.3 U.S. Snack Food Market Quarterly Seasonal Volume Shares by Segment 2011 pg..........16
2. THE U.S. SNACK FOOD AND CANDY MARKETS BY SEGMENT
2.4 U.S. Snack Food Market Estimated Wholesale Dollars Sales by Segment 2006 – 2011 pg..........28
2.5 U.S. Snack Food Market Share of Estimated Wholesale Dollars Sales by Segment 2006 – 2011 pg..........29
2.6 U.S. Snack Food Market Change in Estimated Wholesale Dollars Sales by Segment 2007 – 2011 pg..........30
2.7 U.S. Candy Market Estimated Wholesale Dollars Sales by Segment 2006 – 2011 pg..........31
2.8 U.S. Candy Market Share of Estimated Wholesale Dollars Sales by Segment 2006 – 2011 pg..........32
2.9 U.S. Candy Market Change in Estimated Wholesale Dollars Sales by Segment 2007 – 2011 pg..........33
2.10 U.S. Candy Market Estimated Wholesale Dollars Sales by Distribution Channel 2006 – 2011 pg..........34
2.11 U.S. Candy Market Share of Estimated Wholesale Dollars Sales by Distribution Channel 2006 – 2011 pg..........35
2.12 U.S. Candy Market Change in Estimated Wholesale Dollars Sales by Distribution Channel 2007 – 2011 pg..........36
3. THE REGIONAL SNACK FOOD MARKETS
3.13 U.S. Snack Food Market Estimated Wholesale Dollars Sales by Region 2008 – 2011 pg..........39
3.14 U.S. Snack Food Market Share of Estimated Wholesale Dollars Sales by Region 2008 – 2011 pg..........40
3.15 U.S. Snack Food Market Change in Estimated Wholesale Dollars Sales by Region 2009 – 2011 pg..........41
3.16 U.S. Snack Food Market Estimated Wholesale Dollars Sales by City 2008 – 2011 pg..........42
3.17 U.S. Snack Food Market Share of Estimated Wholesale Dollars Sales by City 2008 – 2011 pg..........43
3.18 U.S. Snack Food Market Change in Estimated Wholesale Dollars Sales by City 2009 – 2011 pg..........44
4. THE LEADING SNACK FOOD COMPANIES AND THEIR BRANDS
4.19 The Leading Snack Food Companies Estimated Wholesale Dollar Sales 2006 – 2011 pg..........150
4.20 The Leading Snack Food Companies Share of Estimated Wholesale Dollar Sales 2006 – 2011 pg..........151
4.21 The Leading Snack Food Companies Change in Estimated Wholesale Dollar Sales 2007 – 2011 pg..........152
4.22 The Leading Potato Chip Companies Retail Dollars Sales in Food, Drug and Mass Merchandisers 2007 – 2011 pg..........153
4.23 The Leading Potato Chip Companies Share of Retail Dollars in Food, Drug and Mass Merchandisers 2007 – 2011 pg..........154
4.24 The Leading Potato Chip Companies Change in Retail Dollars in Food, Drug and Mass Merchandisers 2008 – 2011 pg..........155
4.25 The Leading Corn Chip Companies Retail Dollars Sales in Food, Drug and Mass Merchandisers 2007 – 2011 pg..........156
4.26 The Leading Corn Chip Companies Share of Retail Dollars in Food, Drug and Mass Merchandisers 2007 – 2011 pg..........157
4.27 The Leading Corn Chip Companies Change in Retail Dollars in Food, Drug and Mass Merchandisers 2008 – 2011 pg..........158
4.28 The Leading Tortilla Chip Companies Retail Dollars Sales in Food, Drug and Mass Merchandisers 2007 – 2011 pg..........159
4.29 The Leading Tortilla Chip Companies Share of Retail Dollars in Food, Drug and Mass Merchandisers 2007 – 2011 pg..........160
4.30 The Leading Tortilla Chip Companies Change in Retail Dollars in Food, Drug and Mass Merchandisers 2008 – 2011 pg..........161
4.31 The Leading Pretzel Companies Retail Dollars Sales in Food, Drug and Mass Merchandisers 2007 – 2011 pg..........162
4.32 The Leading Pretzel Companies Share of Retail Dollars in Food, Drug and Mass Merchandisers 2007 – 2011 pg..........163
4.33 The Leading Pretzel Companies Change in Retail Dollars in Food, Drug and Mass Merchandisers 2008 – 2011 pg..........164
4.34 The Leading Ready–to–Eat Popcorn Companies Retail Dollars Sales in Food, Drug and Mass Merchandisers 2007 – 2011 pg..........165
4.35 The Leading Ready–to–Eat Popcorn Companies Share of Retail Dollars in Food, Drug and Mass Merchandisers 2007 – 2011 pg..........166
4.36 The Leading Ready–to–Eat Popcorn Companies Change in Retail Dollars in Food, Drug and Mass Merchandisers 2008 – 2011 pg..........167
4.37 The Leading Snack Mix Companies Retail Dollars Sales in Food, Drug and Mass Merchandisers 2007 – 2011 pg..........168
4.38 The Leading Snack Mix Companies Share of Retail Dollars in Food, Drug and Mass Merchandisers 2007 – 2011 pg..........169
4.39 The Leading Snack Mix Companies Change in Retail Dollars in Food, Drug and Mass Merchandisers 2008 – 2011 pg..........170
4.40 The Leading Cheese Puff Companies Retail Dollars Sales in Food, Drug and Mass Merchandisers 2007 – 2011 pg..........171
4.41 The Leading Cheese Puff Companies Share of Retail Dollars in Food, Drug and Mass Merchandisers 2007 – 2011 pg..........172
4.42 The Leading Cheese Puff Companies Change in Retail Dollars in Food, Drug and Mass Merchandisers 2008 – 2011 pg..........173
4.43 The Leading Potato Chip Brands Retail Dollars Sales in Food, Drug and Mass Merchandisers 2007 – 2011 pg..........174
4.44 The Leading Potato Chips Brands Share of Retail Dollars in Food, Drug and Mass Merchandisers 2007 – 2011 pg..........175
4.45 The Leading Potato Chips Brands Change in Retail Dollars in Food, Drug and Mass Merchandisers 2008 – 2011 pg..........176
4.46 The Leading Corn Chip Brands Retail Dollars Sales in Food, Drug and Mass Merchandisers 2007 – 2011 pg..........177
4.47 The Leading Corn Chip Brands Share of Retail Dollars in Food, Drug and Mass Merchandisers 2007 – 2011 pg..........178
4.48 The Leading Corn Chip Brands Change in Retail Dollars in Food, Drug and Mass Merchandisers 2008 – 2011 pg..........179
4.49 The Leading Tortilla Chip Brands Retail Dollars Sales in Food, Drug and Mass Merchandisers 2007 – 2011 pg..........180
4.50 The Leading Tortilla Chip Brands Share of Retail Dollars in Food, Drug and Mass Merchandisers 2007 – 2011 pg..........181
4.51 The Leading Tortilla Chip Brands Change in Retail Dollars in Food, Drug and Mass Merchandisers 2008 – 2011 pg..........182
4.52 The Leading Pretzel Brands Retail Dollars Sales in Food, Drug and Mass Merchandisers 2007 – 2011 pg..........183
4.53 The Leading Pretzel Brands Share of Retail Dollars in Food, Drug and Mass Merchandisers 2007 – 2011 pg..........184
4.54 The Leading Pretzel Brands Change in Retail Dollars in Food, Drug and Mass Merchandisers 2008 – 2011 pg..........185
4.55 The Leading Ready–to–Eat Popcorn Brands Retail Dollars Sales in Food, Drug and Mass Merchandisers 2007 – 2011 pg..........186
4.56 The Leading Ready–to–Eat Popcorn Brands Share of Retail Dollars in Food, Drug and Mass Merchandisers 2007 – 2011 pg..........187
4.57 The Leading Ready–to–Eat Popcorn Brands Change in Retail Dollars in Food, Drug and Mass Merchandisers 2008 – 2011 pg..........188
4.58 The Leading Snack Mix Brands Retail Dollars Sales in Food, Drug and Mass Merchandisers 2007 – 2011 pg..........189
4.59 The Leading Snack Mix Brands Share of Retail Dollars in Food, Drug and Mass Merchandisers 2007 – 2011 pg..........190
4.60 The Leading Snack Mix Brands Change in Retail Dollars in Food, Drug and Mass Merchandisers 2008 – 2011 pg..........191
4.61 The Leading Cheese Puff Brands Retail Dollar Sales in Food, Drug and Mass Merchandisers 2007 – 2011 pg..........192
4.62 The Leading Cheese Puff Brands Share of Retail Dollars in Food, Drug and Mass Merchandisers 2007 – 2011 pg..........193
4.63 The Leading Cheese Puff Brands Change in Retail Dollars in Food, Drug and Mass Merchandisers 2008 – 2011 pg..........194
5. U.S. SNACK FOOD AND CANDY PRICING
5.64 Producer Price Indexes for Selected Snack Foods and All Commodities 1991 – 2011 pg..........200
5.65 Consumer Price Indexes for Selected Snack Foods and Other Items 1991 – 2011 pg..........201
5.66 Estimated Retail Unit Prices for Snack Foods by Category 2007 – 2011 pg..........202
5.67 Producer Price Indexes for Selected Candies and All Commodities 1991 – 2011 pg..........203
5.68 Consumer Price Indexes for Selected Candies and Other Items 1991 – 2011pg..........204
6. U.S. SNACK FOOD AND CANDY ADVERTISING EXPENDITURES
6.69 U.S. Snack Food Market Advertising Expenditures by Leading Brands 2006 – 2011 pg..........219
6.70 U.S. Snack Food Market Share of Advertising Expenditures by Leading Brands 2006 – 2011 pg..........220
6.71 U.S. Snack Food Market Change in Advertising Expenditures by Leading Brands 2007 – 2011 pg..........221
6.72 U.S. Snack Food Market Advertising Expenditures by Media 2006 – 2011 pg..........222
6.73 U.S. Snack Food Market Share of Advertising Expenditures by Media 2006 – 2011 pg..........223
6.74 U.S. Snack Food Market Change in Advertising Expenditures by Media 2007 – 2011 pg..........224
6.75 U.S. Candy Market Advertising Expenditures by Leading Brands 2006 – 2011 pg..........225
6.76 U.S. Candy Market Share of Advertising Expenditures by Leading Brands 2006 – 2011 pg..........226
6.77 U.S. Candy Market Change in Advertising Expenditures by Leading Brands 2007 – 2011 pg..........227
6.78 U.S. Candy Market Advertising Expenditures by Media 2006 – 2011 pg..........228
6.79 U.S. Candy Market Share of Advertising Expenditures by Media 2006 – 2011 pg..........229
7. U.S. SNACK FOOD DEMOGRAPHICS
7.81 Demographics of the Chips, Popcorn and Pretzels Consumer 2011 pg..........250
7.82 Demographics of the Snack Nuts Consumer 2011 pg..........251
7.83 Demographics of the Energy/Nutrition Bars Consumer 2011 pg..........252
8. THE PROJECTED U.S. SNACK FOOD AND CANDY MARKETS
8.84 The Projected U.S. Snack Food Market Estimated Wholesale Dollars and Growth 2003 – 2016 pg..........258
8.85 The Projected U.S. Snack Food Market Estimated Wholesale Dollar Sales by Segment 2006 – 2016 pg..........259
8.86 The Projected U.S. Snack Food Market Share of Estimated Wholesale Dollar Sales by Segment 2006 – 2016 pg..........260
8.87 The Projected U.S. Snack Food Market Change in Estimated Wholesale Dollar Sales by Segment 2006 – 2016 pg..........261
8.88 The Projected U.S. Candy Market Estimated Wholesale Dollars and Growth 2005 – 2016 pg..........262
8.89 The Projected U.S. Candy Market Estimated Wholesale Dollar Sales by Segment 2006 – 2016 pg..........263
8.90 The Projected U.S. Candy Market Share of Estimated Wholesale Dollar Sales by Segment 2006 – 2016 pg..........264
8.91 The Projected U.S. Candy Market Change in Estimated Wholesale Dollar Sales by Segment 2006 – 2016 pg..........265
---