2012 Sports Beverages in the U.S. (Summer)

CD: $4,995 (Single User Only)
Book: $4,995
Both: $5,395
BMCDataDirect Internet delivery: 3-user license $5,595;
Call for multi-user discount prices
BMCDataDirect Internet delivery: 3-user license + Book: $5,995
Multi-user CD (via corporate intranet/network server) Call Charlene Harvey (formerly Salito) @ 212-688-7640 ext. 1962 for pricing
PLAYING TO WIN. This report offers a comprehensive view of the U.S. sports beverage marketplace as well as its regional markets. It covers market trends, pricing, demographics, advertising, regional sales, distribution channels and packaging as well as the innovations and strategies of the top companies. It also offers projections and discusses trends that will drive the market over the next five years. NEW IN 2012: Expanded discussion of the emergence of new innovations in sports hydration offerings as small brands introduce twists to the winning formula in an attempt to gain a foothold in this difficult to penetrate market.
More than 100 pages, with extensive text, graphs, charts and tables.
Call Charlene Harvey (800) 275-4630 ext. 1962 or (212) 688-7640 ext. 1962 for more information or to place an order.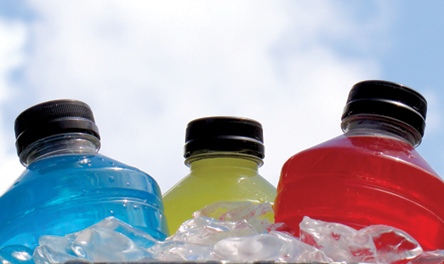 TABLE OF CONTENTS i
TABLE OF EXHIBITS iii
DEFINITIONS USED IN THIS REPORT vi
INTRODUCTION viii
---
CHAPTER
1. THE U.S. SPORTS BEVERAGE MARKET
Sports Beverages in the Functional Beverage Market pg..........1

Sports Beverage Definition pg..........2

The Current Sports Beverage Market pg..........5

Overview pg..........5
Per Capita Consumption pg..........7
Growth pg..........8
Seasonality pg..........8

Exhibits pg..........10
2. SPORTS BEVERAGE REGIONAL MARKETS
Regional Sports Beverage Markets pg..........17

Overview pg..........17
The South pg..........18
The West pg..........19
The Midwest pg..........20
The Northeast pg..........20
Leading Sports Beverage Cities pg..........21

Exhibits pg..........22
3. REDUCED CALORIE AND REGULAR SPORTS BEVERAGES
Regular and Low–Calorie Sports Beverages pg..........31

Exhibits pg..........32
4. SPORTS BEVERAGE FLAVORS
Sports Beverage Flavors pg..........35

Exhibits pg..........37
5. SPORTS BEVERAGE SEGMENTS AND DISTRIBUTION CHANNELS
Sports Beverage Market Segments pg..........40

Dollar Sales pg..........40

Sports Beverage Distribution Channels pg..........42

Exhibits pg..........46
6. SPORTS BEVERAGE PACKAGING
Sports Beverage Packaging pg..........55

Exhibits pg..........57
7. LEADING SPORTS BEVERAGE COMPANIES AND THEIR BRANDS
The Leading Companies pg..........60

PepsiCo, Inc. – Gatorade

Overview pg..........62
Marketing pg..........63
Distribution pg..........80

Coca–Cola Company – Powerade

Overview pg..........83
Marketing pg..........84
Distribution pg..........87

Other Sports Beverages

All Sport pg..........88
Golazo pg..........90
R.W. Knudsen – Recharge pg..........92
Ferolito, Vultaggio & Sons – Arizona Sports pg..........92

Leading Brands by Channel pg..........93

Exhibits pg..........94
8. SPORTS BEVERAGE ADVERTISING EXPENDITURES
Sports Beverage Advertising Expenditures pg..........101

Overview pg..........101
Expenditures by Medium pg..........102

Sports Beverage Advertising Expenditures by Brand pg..........104

Gatorade pg..........104
Powerade pg..........104

Exhibits pg..........106
9. DEMOGRAPHICS OF THE SPORTS BEVERAGE USER
Demographics of the Sports Beverage User pg..........112

Demographic Comparison of Gatorade and Powerade pg..........116

Exhibits pg..........119
10. THE RTD PROTEIN DRINK MARKET
Protein Drinks in the U.S. pg..........122

Leading Protein Drink Brands pg..........128

Muscle Milk pg..........128
mix1 pg..........130
Core Power pg..........132
FitPro pg..........133
Click pg..........134

Exhibits pg..........135
11. THE PROJECTED U.S. SPORTS BEVERAGE MARKET
The Projected U.S. Sports Beverage Market pg..........137

Projected U.S. Sports Beverage Volume by Channel pg..........140

Exhibits pg..........141
EXHIBIT
1. THE U.S. SPORTS BEVERAGE MARKET
1.1 Global Sports Beverage Market Estimated Wholesale Dollar Sales, Volume and Growth 2002 – 2011 pg..........10
1.2 Sports Beverage Market Wholesale Dollar Sales and Volume 1985 – 2011 pg..........11
1.3 Sports Beverage Market Dollar Sales and Volume Growth 1986 – 2011 pg..........12
1.4 Sports Beverage Market Per Capita Consumption 1985 – 2011 pg..........13
1.5 Sports Beverage Market Compound Annual Growth 1985 – 2011 pg..........14
1.6 Sports Beverage Market Retail Dollar Sales and Growth 2000 – 2011 pg..........15
1.7 Sports Beverage Market Quarterly Volume Shares in Measured Channels 2003 – 2011 pg..........16
2. SPORTS BEVERAGE REGIONAL MARKETS
2.8 Regional Sports Beverage Markets Wholesale Dollar Sales 1986 – 2011 pg..........22
2.9 Regional Sports Beverage Markets Share of Wholesale Dollar Sales 1986 – 2011 pg..........23
2.10 Regional Sports Beverage Markets Change in Wholesale Dollar Sales 1987 – 2011 pg..........24
2.11 Leading Sports Beverage Cities Volume in Grocery, Drug and Mass Merchandisers 2007 – 2011 pg..........25
2.12 Leading Sports Beverage Cities Share of Volume in Grocery, Drug and Mass Merchandisers 2007 – 2011 pg..........26
2.13 Leading Sports Beverage Cities Volume Growth in Grocery, Drug and Mass Merchandisers 2008 – 2011 pg..........27
2.14 Leading Sports Beverage Cities Dollar Sales in Grocery, Drug and Mass Merchandisers 2007 – 2011 pg..........28
2.15 Leading Sports Beverage Cities Dollar Share in Grocery, Drug and Mass Merchandisers 2007 – 2011 pg..........29
2.16 Leading Sports Beverage Cities Dollar Growth in Grocery, Drug and Mass Merchandisers 2008 – 2011 pg..........30
3. REDUCED CALORIE AND REGULAR SPORTS BEVERAGES
3.17 Sports Beverage Market Volume by Calorie Count 2006 – 2011 pg..........32
3.18 Sports Beverage Market Share of Volume by Calorie Count 2006 – 2011 pg..........33
3.19 Sports Beverage Market Change in Volume by Calorie Count 2007 – 2011 pg..........34
4. SPORTS BEVERAGE FLAVORS
4.20 Sports Beverage Flavors Volume in Grocery, Drug and Mass Merchandisers 2006 – 2011 pg..........37
4.21 Sports Beverage Flavors Volume Share in Grocery, Drug and Mass Merchandisers 2006 – 2011 pg..........38
4.22 Sports Beverage Flavors Volume Growth in Grocery, Drug and Mass Merchandisers 2007 – 2011 pg..........39
5. SPORTS BEVERAGE SEGMENTS AND DISTRIBUTION CHANNELS
5.23 Sports Beverage Segments Wholesale Dollar Sales 1986 – 2011 pg..........46
5.24 Sports Beverage Segments Share of Wholesale Dollar Sales 1986 – 2011 pg..........47
5.25 Sports Beverage Segments Change in Wholesale Dollar Sales 1987 – 2011 pg..........48
5.26 Sports Beverage Distribution Channels Wholesale Dollar Sales 1986 – 2011 pg..........49
5.27 Sports Beverage Distribution Channels Share of Wholesale Dollar Sales 1986 – 2011 pg..........50
5.28 Sports Beverage Distribution Channels Change in Wholesale Dollar Sales 1987 – 2011 pg..........51
5.29 Sports Beverages Estimated Volume by Distribution Channel 2006 – 2011 pg..........52
p5.30 Sports Beverages Share of Volume by Distribution Channel 2006 – 2011 g..........53
5.31 Sports Beverages Change in Volume by Distribution Channel 2007 – 2011 pg..........54
6. SPORTS BEVERAGE PACKAGING
6.32 Sports Beverage Packaging Volume by Size 2006 – 2011 pg..........57
6.33 Sports Beverage Packaging Share of Volume by Size 2006 – 2011 pg..........58
6.34 Sports Beverage Packaging Change in Volume by Size 2007 – 2011 pg..........59
7. LEADING SPORTS BEVERAGE COMPANIES AND THEIR BRANDS
7.35 Leading Sports Beverage Brands Estimated Wholesale Dollar Sales 2006 – 2011 pg..........94
7.36 Leading Sports Beverage Brands Share of Wholesale Dollar Sales 2006 – 2011pg..........95
7.37 Leading Sports Beverage Brands Change in Wholesale Dollar Sales 2007 – 2011 pg..........96
7.38 Leading Sports Beverage Brands Estimated Volume 2006 – 2011 pg..........97
7.39 Leading Sports Beverage Brands Share of Volume 2006 – 2011 pg..........98
7.40 Leading Sports Beverage Brands Change in Volume 2007 – 2011 pg..........99
7.41 Leading Sports Beverage Trademarks by Volume in Measured Channels 2011 pg..........100
8. SPORTS BEVERAGE ADVERTISING EXPENDITURES
8.42 Leading Sports Beverage Brands Advertising Expenditures 2006 – 2011 pg..........106
8.43 Leading Sports Beverage Brands Share of Advertising Expenditures 2006 – 2011 pg..........107
8.44 Leading Sports Beverage Brands Change in Advertising Expenditures 2007 – 2011 pg..........108
8.45 Sports Beverage Advertising Expenditures by Media 2006 – 2011 pg..........109
8.46 Sports Beverage Share of Advertising Expenditures by Media 2006 – 2011 pg..........110
8.47 Sports Beverage Change in Advertising Expenditures by Media 2007 – 2011 pg..........111
9. DEMOGRAPHICS OF THE SPORTS BEVERAGE USER
9.48 Demographics of the Sports Beverage Consumer 2011 pg..........119
9.49 Demographics of the Gatorade Consumer 2011 pg..........120
9.50 Demographics of the Powerade Consumer 2011 pg..........121
10. THE RTD PROTEIN DRINK MARKET
10.51 Protein Drink Market Estimated Wholesale Dollars and Volume 2004 – 2011 pg..........135
10.52 Protein Drink Market Growth 2005 – 2011 pg..........136
11. THE PROJECTED U.S. SPORTS BEVERAGE MARKET
11.53 Projected Sports Beverage Market Wholesale Dollar Sales and Volume 1985 – 2016 pg..........141
11.54 Projected Sports Beverage Market Wholesale Dollar Sales and Volume Growth 1986 – 2016 pg..........142
11.55 Projected Sports Beverage Market Per Capita Consumption 1985 – 2016 pg..........143
11.56 Projected Sports Beverage Market Wholesale Dollar Sales by Segment 2006 – 2016 pg..........144
11.57 Projected Sports Beverage Market Dollar Share by Segment 2006 – 2016 pg..........145
11.58 Projected Sports Beverage Market Compound Annual Growth by Segment 2006 – 2016 pg..........146
11.59 Projected Sports Beverage Market Estimated Volume and Share by Calorie Count 2006 – 2016 pg..........147
11.60 Projected Sports Beverage Market Compound Annual Growth by Calorie Count 2011 – 2016 pg..........148
11.61 Projected Sports Beverage Market Estimated Volume and Share by Distribution Channel 2006 – 2016 pg..........149
11.62 Projected Sports Beverage Market Compound Annual Growth by Distribution Channel 2011 – 2016 pg..........150
---