2012 Single-Serve Fruit Beverages in the U.S. (Summer)

CD: $4,995 (Single User Only)
Book: $4,995
Both: $5,395
BMCDataDirect Internet delivery: 3-user license $5,595; Call for multi-user discount prices
BMCDataDirect Internet delivery: 3-user license + Book: $5,995
Multi-user CD (via corporate intranet/network server)
Call Charlene Harvey (formerly Salito) @ 212-688-7640 ext. 1962 for pricing
JUICEY. This report examines the single-serve fruit beverage market in the context of the New Age beverage marketplace. The report provides in-depth discussion of the leading companies' distribution and marketing strategies and supplies data on volume and sales of their brands. It covers regions, packaging, the superpremium juice sub-segment, advertising and demographics. It also provides five-year projections through 2016.
More than 150 pages, with extensive text, graphs, charts and tables.
Call Charlene Harvey (800) 275-4630 ext. 1962 or (212) 688-7640 ext. 1962 for more information or to place an order.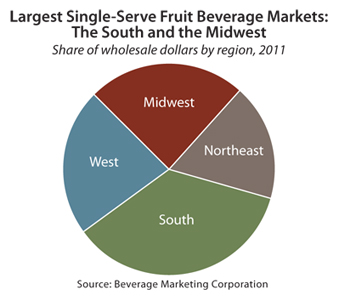 TABLE OF CONTENTS i
TABLE OF EXHIBITS iv
DEFINITIONS USED IN THIS REPORT vii
INTRODUCTION xii
---
CHAPTER
1. THE U.S. FRUIT BEVERAGE AND NEW AGE MARKETS
The U.S. Fruit Beverage Market pg..........1

Volume pg..........1
Retail Dollar Sales pg..........2
Per Capita Consumption pg..........3
Seasonality pg..........5

The U.S. New Age Beverage Market pg..........6

The 2011 New Age Market pg..........10

Exhibits pg..........12
2. THE U.S. SINGLE–SERVE FRUIT BEVERAGE MARKET
The Single–Serve Fruit Beverage Industry pg..........27

Overview pg..........27
Characteristics and Developments pg..........30
Superpremium Juices pg..........31
Nutrient–Enhanced Fruit Drinks pg..........33
Sparkling Juice pg..........33

Exhibits pg..........35
3. REGIONAL SINGLE–SERVE FRUIT BEVERAGE MARKETS
Regional Single–Serve Fruit Beverage Markets pg..........39

Overview pg..........39
The South pg..........40
The Midwest pg..........41
The West pg..........41
The Northeast pg..........42

Exhibits pg..........44
4. SINGLE–SERVE FRUIT BEVERAGE DISTRIBUTION CHANNELS
Single–Serve Fruit Beverage Distribution Channels pg..........47

Overview pg..........47
Convenience Stores pg..........49
Supermarkets pg..........49
Foodservice pg..........50
Mass Merchandisers pg..........50
Vending pg..........50
Drug Stores pg..........51

Exhibits pg..........52
5. SINGLE–SERVE FRUIT BEVERAGE PACKAGING
Single–Serve Fruit Beverage Packaging Types pg..........55

Overview pg..........55
Package Sizes pg..........57

Exhibits pg..........60
6. THE LEADING SINGLE–SERVE FRUIT BEVERAGE COMPANIES AND THEIR BRANDS
The Leading Brands pg..........63

PepsiCo, Inc.

Overview pg..........66
Tropicana — Overview pg..........66
Tropicana — Marketing pg..........67
Dole — Overview pg..........69
Naked Juice — Overview pg..........70
Naked Juice — Marketing pg..........73
Naked Juice — Distribution pg..........76
Izze — Overview pg..........77
Izze — Marketing pg..........78
Izze — Distribution pg..........79
SoBe — Overview pg..........79
SoBe — Marketing pg..........80
SoBe — Distribution pg..........82

Coca–Cola Company

Overview pg..........84
Minute Maid — Overview pg..........84
Minute Maid — Marketing pg..........85
Minute Maid — Distribution pg..........93
Fuze — Overview pg..........94
Fuze — Marketing pg..........94
Fuze — Distribution pg..........96

Dr Pepper Snapple Group, Inc.

Overview pg..........97
Marketing pg..........98
Snapple Beverage Group — Overview pg..........100
Snapple Beverage Group — Marketing pg..........100
Snapple Beverage Group — Distribution pg..........103

Ocean Spray

Overview pg..........106
Marketing pg..........106
Distribution pg..........108

Sunny Delight Beverages Company

Overview pg..........109
Marketing pg..........110
Distribution pg..........113

Welch's

Overview pg..........115
Marketing pg..........115
Distribution pg..........118

POM Wonderful

Overview pg..........119
Marketing pg..........120

Exhibits pg..........124
7. THE SUPERPREMIUM JUICE MARKET
Superpremium Juice in the U.S. pg..........130

Leading Companies pg..........136
8. SINGLE—SERVE FRUIT BEVERAGE ADVERTISING EXPENDITURES
Leading Single—Serve Fruit Beverage Advertisers pg..........142

Single—Serve Fruit Beverage Advertising by Medium pg..........145

Exhibits pg..........146
9. DEMOGRAPHICS OF THE SINGLE—SERVE FRUIT BEVERAGE CONSUMER
The Fruit Drink Consumer pg..........152

Overview pg..........152
Comparative Demographics of Fruit Drink Brands pg..........154

Exhibits pg..........156
10. THE PROJECTED U.S. SINGLE—SERVE FRUIT BEVERAGE MARKET
The Projected Single—Serve Fruit Beverage Market pg..........160

Overview pg..........160
Regular Single—Serve Fruit Beverages pg..........161
Superpremium Juices pg..........162
Nutrient—Enhanced Fruit Drinks pg..........162
Sparkling Juice pg..........163
Packaging Types pg..........163

Exhibits pg..........164
EXHIBIT
1. THE U.S. FRUIT BEVERAGE AND NEW AGE MARKETS
1.1 U.S. Fruit Beverage Market Volume and Growth 1980 – 2011 pg..........12
1.2 U.S. Fruit Beverage Market Segments Volume 2006 – 2011 pg..........13
1.3 U.S. Fruit Beverage Market Segments Share of Volume 2006 – 2011 pg..........14
1.4 U.S. Fruit Beverage Market Segments Change in Volume 2007 – 2011 pg..........15
1.5 U.S. Fruit Beverage Market Total Retail Dollars and Growth 1982 – 2011 pg..........16
1.6 U.S. Fruit Beverage Market Segments Estimated Retail Dollar Sales 1982 – 2011 pg..........17
1.7 U.S. Fruit Beverage Market Segments Share of Retail Dollar Sales 1982 – 2011 pg..........18
1.8 U.S. Fruit Beverage Market Segments Change in Retail Dollar Sales 1991 – 2011 pg..........19
1.9 U.S. Fruit Beverage Market Per Capita Consumption 1980 – 2011 pg..........20
1.10 U.S. Fruit Beverage Market Segments Per Capita Consumption 1992 – 2011 pg..........21
1.11 Fruit Beverage Seasonality Quarterly Volume Shares 2011 pg..........22
1.12 U.S. New Age Beverage Market Estimated Wholesale Dollar Sales 1996 – 2011 pg..........23
1.13 U.S. New Age Beverage Market Segments Estimated Wholesale Dollar Sales 2006 – 2011 pg..........24
1.14 U.S. New Age Beverage Market Segments Share of Wholesale Dollar Sales 2006 – 2011 pg..........25
1.15 U.S. New Age Beverage Market Segments Change in Wholesale Dollar Sales 2007 – 2011 pg..........26
2. THE U.S. SINGLE–SERVE FRUIT BEVERAGE MARKET
2.16 U.S. Single–Serve Fruit Beverage Market Volume and Growth 1993 – 2012 pg..........35
2.17 U.S. Single–Serve Fruit Beverage Market Per Capita Consumption 1993 – 2012 pg..........36
2.18 U.S. Single–Serve Fruit Beverage Market Estimated Wholesale Dollars 1993 – 2011 pg..........37
2.19 U.S. Single–Serve Fruit Beverage Market Estimated Retail Dollars 2006 – 2011 pg..........38
3. REGIONAL SINGLE–SERVE FRUIT BEVERAGE MARKETS
3.20 Regional Single–Serve Fruit Beverage Markets Wholesale Dollar Sales 1993 – 2011 pg..........44
3.21 Regional Single–Serve Fruit Beverage Markets Dollar Share 1993 – 2011 pg..........45
3.22 Regional Single–Serve Fruit Beverage Markets Dollar Growth 1994 – 2011 pg..........46
4. SINGLE–SERVE FRUIT BEVERAGE DISTRIBUTION CHANNELS
4.23 U.S. Single–Serve Fruit Beverage Market Volume by Distribution Channel 2006 – 2011 pg..........52
4.24 U.S. Single–Serve Fruit Beverage Market Share by Distribution Channel 2006 – 2011 pg..........53
4.25 U.S. Single–Serve Fruit Beverage Market Growth by Distribution Channel 2007 – 2011 pg..........54
5. SINGLE–SERVE FRUIT BEVERAGE PACKAGING
5.26 U.S. Single-Serve Fruit Beverage Market Case Volume by Package Size and Type 2006 – 2011 pg..........60
5.27 U.S. Single–Serve Fruit Beverage Market Case Share by Package Size and Type 2006 – 2011 pg..........61
5.28 U.S. Single–Serve Fruit Beverage Market Case Growth by Package Size and Type 2007 – 2011 pg..........62
6. THE LEADING SINGLE–SERVE FRUIT BEVERAGE COMPANIES AND THEIR BRANDS
6.29 Leading Single–Serve Fruit Beverages Estimated Wholesale Dollar Sales 2006 – 2011 pg..........124
6.30 Leading Single–Serve Fruit Beverages Dollar Share 2006 – 2011 pg..........125
6.31 Leading Single–Serve Fruit Beverages Dollar Growth 2007 – 2011 pg..........126
6.32 Leading Single–Serve Fruit Beverages Estimated Case Volume 2006 – 2011 pg..........127
6.33 Leading Single–Serve Fruit Beverages Volume Share 2006 – 2011 pg..........128
6.34 Leading Single–Serve Fruit Beverages Volume Growth 2007 – 2011 pg..........129
8. SINGLE–SERVE FRUIT BEVERAGE ADVERTISING EXPENDITURES
8.35 Leading Single–Serve Fruit Beverage Advertising Expenditures 2006 – 2011 pg..........146
8.36 Leading Single–Serve Fruit Beverage Share of Advertising Expenditures 2006 – 2011 pg..........147
8.37 Leading Single–Serve Fruit Beverage Change in Advertising Expenditures 2007 – 2011 pg..........148
8.38 Single–Serve Fruit Beverage Advertising Expenditures by Media 2006 – 2011 pg..........149
8.39 Single–Serve Fruit Beverage Share of Advertising Expenditures by Media 2006 – 2011 pg..........150
8.40 Single–Serve Fruit Beverage Change in Advertising Expenditures by Media 2007 – 2011 pg..........151
9. DEMOGRAPHICS OF THE SINGLE–SERVE FRUIT BEVERAGE CONSUMER
9.41 Demographics of the Fruit Drink Consumer 2011 pg..........156
9.42 Demographics of the Hawaiian Punch Consumer 2011 pg..........157
9.43 Demographics of the Sunny D Consumer 2011 pg..........158
9.44 Demographics of the Snapple Consumer 2011 pg..........159
10. THE PROJECTED U.S. SINGLE–SERVE FRUIT BEVERAGE MARKET
10.45 Projected Single–Serve Fruit Beverage Market Volume and Growth 1993 – 2016 pg..........164
10.46 Projected Single–Serve Fruit Beverage Market Estimated Wholesale Dollars and Growth 1993 – 2016 pg..........165
10.47 Projected Single–Serve Fruit Beverage Market Wholesale Dollar Sales by Segment 2011 – 2016 pg..........166
10.48 Projected Single–Serve Fruit Beverage Market Compound Annual Growth by Segment 2011 – 2016 pg..........167
10.49 Projected Single–Serve Fruit Beverage Market Case Volume by Package Type 2011 – 2016 pg..........168
10.50 Projected Single–Serve Fruit Beverage Market Compound Annual Growth by Package Type 2011 – 2016 pg..........169
---