CHOOSE YOUR HOLIDAY OFFER FROM BMC TODAY!
HOW WILL YOU CELEBRATE?
BOGO, Discount or BOTH?
PURCHASE ANY MARKET REPORT BY 12/31/17 AND GET A FREE REPORT OF YOUR CHOICE VALUED UP TO $1,500!* ** COUPON CODE: HOL17BOGO
OR
PURCHASE BY 12/31/17 AND GET A 15% DISCOUNT ON YOUR
ENTIRE ORDER!* COUPON CODE: CHEER15
OR
SPEND $4,995 OR MORE BY 12/31/17, GET A SECOND REPORT OF EQUAL VALUE AT 50% OFF!* COUPON CODE: HOLBOGO50
OR
SPEND $10,000 OR MORE BY 12/31/17, GET 20% OFF YOUR ORDER, PLUS A FREE COPY OF U.S. COLLEGE STUDENT BEVERAGE CONSUMPTION AND ATTITUDES (VALUED AT $1,995)!* *** COUPON CODE: MOREFORLESS17
The graph below is an excerpt from The Multiple Beverage Marketplace in Canada, 2017 edition
IMPORTED SPIRITS GAIN SHARE IN CANADA
Share of distilled spirits volume by type, 2011 - 2016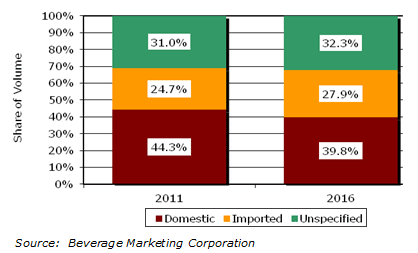 RECENTLY PUBLISHED REPORT TOPICS:
Beverage Marketing Corporation of New York
850 Third Avenue - New York - NY 10022
Tel: 800-275-4630 | Outside U.S.: 212-688-7640
Fax: 212-826-1255
www.bmcreports.com
*One coupon per customer. No substitutions. Cannot be combined with any other offer or special discount. **To receive your free report, place both the report you are purchasing AND any report priced $1,500 or less in your cart. Use coupon code and follow purchase instructions. Cost of free report will be deducted from total order. ***Your free copy of U.S. College Student Beverage Consumption and Attitudes will be sent to you separately by our processing staff during business hours.