Press Release: The U.S. Liquid Refreshment Beverage Market Grew by 1.0% in 2012, Reports BMC
12/29/2014
For immediate release
THE U.S. LIQUID REFRESHMENT BEVERAGE MARKET GREW BY 1.0% IN 2012, REPORTS BEVERAGE MARKETING CORPORATION
Energy drinks, ready–to–drink coffee and tea and bottled water grew aggressively; carbonated soft drinks declined again
NEW YORK, NY, 25 March 2013: The U.S. liquid refreshment beverage market grew by 1.0% in 2012, according to newly released preliminary data from Beverage Marketing Corporation. This marked a third year of growth after two consecutive declines. It also represented faster growth than occurred the year before. The weakened economy hindered beverages' performance in 2008 and 2009, and improving conditions contributed to their upticks in 2010, 2011 and 2012. Total liquid refreshment beverage volume approached 29.8 billion gallons in 2012.
Niche categories outperformed traditional mass–market categories. Premium beverages such as ready–to–drink (RTD) tea and coffee and, especially, energy drinks advanced particularly forcefully during 2012. Aggressive pricing contributed to the sizeable increase in bottled water volume. Larger, more established segments such as carbonated soft drinks and fruit beverages failed to grow once again.
Energy drinks moved forward faster than all other segments with a 14.3% volume increase in 2012. Nonetheless, the segment accounted for a relatively small share of total liquid refreshment beverage volume. Indeed, the only liquid refreshment beverage types with smaller shares of volume were RTD coffee, which charted the second fastest surge, growing by 9.5%, and value–added water, which contracted during the year. Not surprisingly, no energy drink, RTD coffee or value–added water brand ranked among the leading trademarks by volume.
Sports beverages, in contrast, had Gatorade (including all brand variations) as the fifth largest beverage trademark during the year, and the category it led grew faster than the overall liquid refreshment beverage market. The brand topped 1 billion gallons for the first time in 2011 and remained above that level in 2012 despite declining. Its chief rival, Powerade, moved muscularly enough for the overall category to grow.
Carbonated soft drinks remained by far the biggest liquid refreshment beverage category, but they continued to lose both volume and market share. Volume slipped by 1.8% from 13.6 billion gallons in 2011 to 13.3 billion gallons in 2012, which lowered their market share from 46% to less than 45%. Even so, certain soda trademarks, such as Coke Zero and Dr Pepper, did achieve growth. Moreover, carbonated soft drinks accounted for four of the 10 biggest beverage trademarks during 2012, with Coca–Cola and Pepsi–Cola retaining their usual first and second positions.
Bottled water had three entries among the leading trademarks in 2012. The category swelled by 5.8% in 2012, and two of the three biggest brands — Nestlé Pure Life and Dasani — grew significantly faster.
RTD tea grew by nearly 5% in 2012.
Four companies accounted for all of the leading refreshment beverage trademarks. Pepsi–Cola had four brands, including the only fruit beverage brand to make the list, Tropicana. Coca–Cola had three while Nestlé Waters North America (NWNA) had two and Dr Pepper Snapple Group (DPSG) had one.
"Beverages showed gathering strength in 2012," said Michael C. Bellas, chairman and CEO, Beverage Marketing Corporation. "While an improving economy remains the key impetus for beverage category success, the vitality of premium products like energy drinks and RTD coffee shows that Americans' thirst for both functional and fun products is strong."
New York City–based Beverage Marketing Corporation is the leading research, consulting and advisory services firm dedicated to the global beverage industry. Serving the industry for more than 40 years, the company offers more than 50 market trend reports which include in–depth studies of various beverage sectors such as Bottled Water in the U.S. as well as market reports covering drink sectors such as Coffee in the U.S. and RTD Tea in the U.S. Most recently, the launch of the company's DrinkTell™ database has provided an easy to use platform for users to access U.S. and global data on a broad range of alcohol and non–alcohol beverage categories.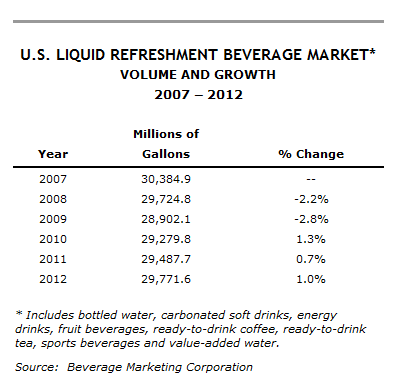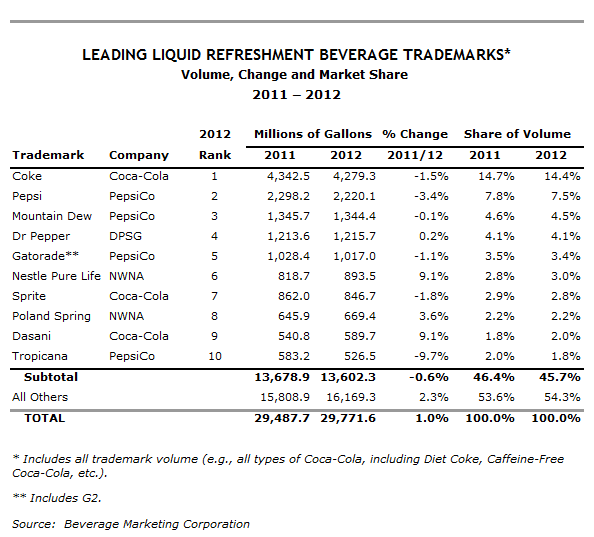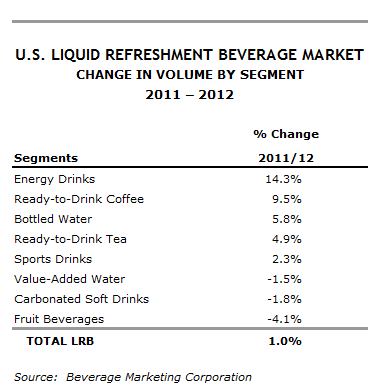 ###