Press Release: U.S. Liquid Refreshment Beverage Market Retail Dollars and Volume Both Grew in 2017, Reports Beverage Marketing Corporation
5/9/2018
U.S. LIQUID REFRESHMENT BEVERAGE MARKET RETAIL DOLLARS AND VOLUME BOTH GREW IN 2017, REPORTS BEVERAGE MARKETING CORPORATION
***
Carbonated soft drinks retail dollars grew while volume declined — driven by continued package downsizing and introduction of more no–sugar options
NEW YORK, NY, 9 May 2018: The U.S. liquid refreshment beverage market grew again in 2017, with retail sales increasing about 3% and volume by around 2%, according to newly released preliminary data from Beverage Marketing Corporation. Beverage–specific factors, such as the continued vitality of the large bottled water segment, as well as more general ones, such as the continuing economic recovery, contributed to the overall increase in liquid refreshment beverage volume, which approached 34 billion gallons in 2017. Measured in retail sales, the market exceeded $180 billion, propelled both by exceptionally fast growth by small, niche segments as well as growth by bigger, established categories, such as carbonated soft drinks. All but two segments of the liquid refreshment beverage market grew retail sales in 2017, with ready–to–drink coffee and tea, bottled water, energy drinks and carbonated soft drinks showing growth, and fruit beverages and sports drinks showing declines.
Bottled water, which surpassed carbonated soft drinks to become the number–one beverage by volume in 2016, further solidified its leadership with notably vigorous growth in 2017. The category's defining qualities — healthful, natural, calorie–free and convenient — increasingly appeal to U.S. consumers. Pricing remained aggressive, which also contributed to bottled water's performance. Volume enlarged by 7% and retail sales swelled by nearly 11%.
Extending an ongoing trend, small segments outperformed most traditional mass–market ones. In terms of both volume and dollars, ready–to–drink (RTD) coffee and value–added water in particular advanced forcefully in 2017. Indeed, RTD coffee outperformed all other segments with a 12.3% increase in volume and a 14.4% increase in retail dollars. Value–added water also saw double–digit growth rates in both volume and dollars. Bottled water also outperformed the overall beverage market. In contrast, fruit beverages saw contraction in both volume and dollars, while carbonated soft drinks grew in dollars and declined in volume as beverage companies continued to downsize packages to respond to consumers' desire for less sugar.
Despite their growth, no energy drink, RTD coffee or value–added water brand ranked among the leading trademarks by volume. (No fruit beverage brand did either.)
Sports beverages, on the other hand, had Gatorade (including all brand variations) as the sixth largest liquid refreshment beverage trademark during the year with volume greater than 1 billion gallons.
Carbonated soft drinks continued to account for four of the five top beverage brands by volume, with the category growing retail sales by 1.2%. Total category volume dipped by 1.3% from 12.5 billion gallons in 2016 to 12.3 billion gallons in 2017, which lowered their market share to less than 37%. Coca–Cola and PepsiCo retained their usual first and second positions among the 10 leading beverage trademarks in 2017, with Mountain Dew and Dr Pepper claiming third and fourth place. Dr Pepper and Sprite (ranked seventh) both recorded volume growth during the year.
Bottled water had four entries among the leading trademarks in 2017. All of them grew volume (though one barely did), and two of them moved in advance of the overall liquid refreshment beverage category.
Four companies accounted for all of the leading refreshment beverage trademarks. PepsiCo had four brands. Coca–Cola had three while Nestlé Waters North America (NWNA) had two and Dr Pepper Snapple Group (DPSG) had one.
"The beverage industry's ongoing growth in both volume and retail sales indicates fundamental strength," said Michael C. Bellas, chairman and CEO, Beverage Marketing Corporation. "Its response to changes in consumer preferences illustrates its ability to adapt."
New York City–based Beverage Marketing Corporation is the leading consulting, research and advisory services firm dedicated to the global beverage industry.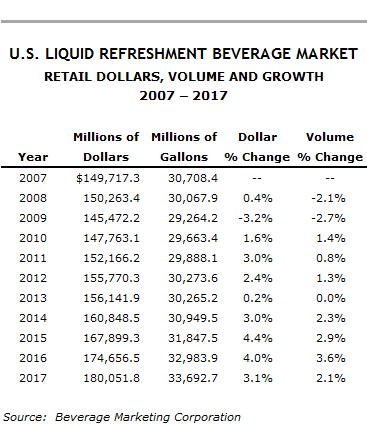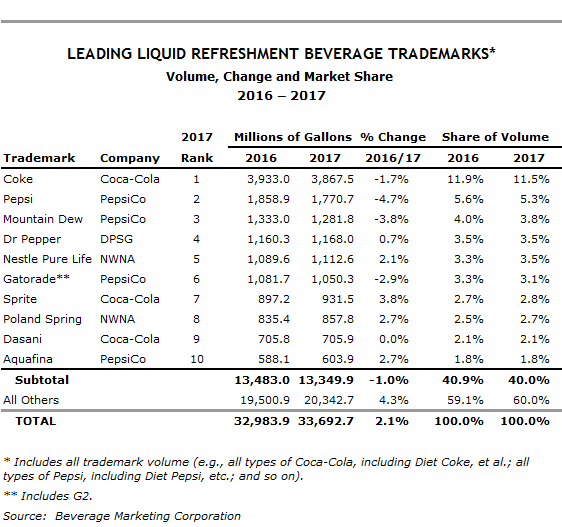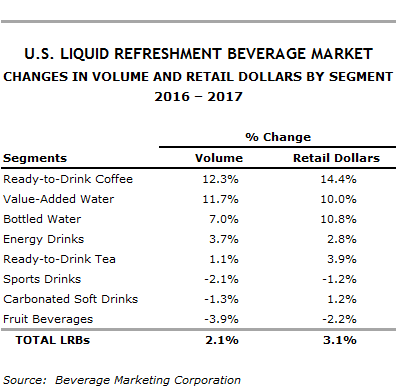 ####