Press Release: The U.S. Liquid Refreshment Beverage Market Strengthens in First Half of 2015
9/3/2015
THE U.S. LIQUID REFRESHMENT BEVERAGE MARKET STRENGTHENS IN FIRST HALF OF 2015, REPORTS BEVERAGE MARKETING CORPORATION
***
Ready–to–drink coffee and tea, energy drinks and bottled water grew strongly; carbonated soft drinks declined again
NEW YORK, NY, 27 August 2015: The U.S. liquid refreshment beverage market saw solid growth in the first half of 2015, according to Beverage Marketing Corporation's latest U.S. Quarterly Category Volume and Wholesale Dollar Report. With most segments increasing, total volume enlarged by 2.6% in the first six months of the year.
Nonetheless, the largest single liquid refreshment beverage type — carbonated soft drinks — continued to contract. Volume was nearly 1% lower in the first half of 2015 than in the first half of 2014. Though its share of liquid refreshment beverage volume remained considerable at more than 27%, its steady erosion persists.
Several beverage categories did perform muscularly, lifting the overall refreshment beverage market. Ready–to–drink coffee accelerated exceptionally rapidly; energy drinks and ready–to–drink tea also displayed vitality over the first half of the year. Bottled water, bolstered by both the large retail PET component as well as the smaller imported and domestic sparkling segments, enjoyed market–beating growth.
Total liquid refreshment volume's upward movement in the first half of 2015 leads Beverage Marketing to expect the category to experience a second consecutive year of growth.
New York City–based Beverage Marketing Corporation is the leading research, consulting and financial services firm dedicated to the global beverage industry.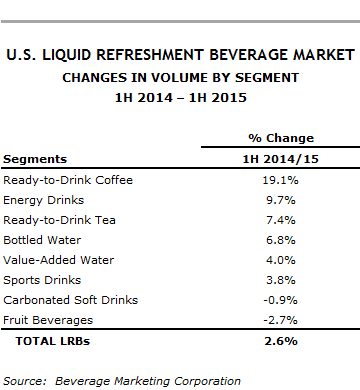 ###