The BMC Beverage Blog
Kombucha Tea: Today's Sizzle, Tomorrow's Fizzle?
6/4/2018
Written by: Brian Sudano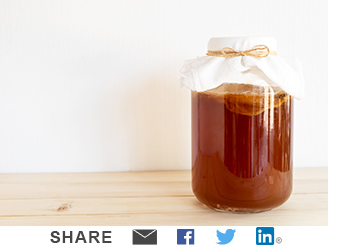 But is this exotic drink here to stay or just another future flameout? For now, we think Kombucha is right in the Millennials' sweet spot and history suggests a product with this type of 'cool factor' still has a few great years ahead — our DrinkTell numbers support that. But trendy comes and goes and without independent data which confirms the product's real efficacy, a category-defining brand or deeper and more diverse retail distribution, there is a risk of stagnation on the horizon.
Ultimately, a successful beverage brand needs to deliver what the physical product promises, to represent an idea people like and to reach as much of the addressable market as possible. Kombucha arguably delivers on the physical product, but on brand strength and distribution power, we are not there yet. How does the brand connect emotionally with consumers? Does it represent me? Where is it best to find the product? Where best to connect with consumers: restaurants or convenience stores? Supermarkets or club stores? Etc.
So, what is this Kombucha anyway? Simply put, Kombucha is a tea that has been fermented with bacteria and yeast. According to market leader GT's Living Foods, a privately-held California company, during the culturing period, Kombucha becomes "naturally rich with Probiotics, Antioxidants, Amino Acids, Polyphenols and Active Enzymes." There is a strong health halo in all of these compounds thus the recent success of the product isn't that surprising to us.
Where are we now with size and competition? In our proprietary DrinkTell database, we estimate that the Kombucha category rose to just under 24 million 192-oz. cases in 2017, growing nearly 10x in volume since 2011 (2.8mm cases). GT's Living Foods has a strong grip on the category with an 80% market share, with only KeVita providing real competition, approaching a 10% share and with a strong on-line presence.
What's the future of Kombucha? Current trends look promising and the category is on a path to achieve critical mass. However, we see three challenges ahead:
First, Kombucha's health claims are mostly implied and not proven. At this time, we could find no specific instance of a Kombucha company making specific health claims, but the companies do emphasize the value of antioxidants and probiotics as an implied health benefit. However, the Mayo Clinic states on its website: "Limited evidence suggests kombucha tea may offer benefits similar to probiotic supplements, including promoting a healthy immune system and preventing constipation. At present, however, valid medical studies of kombucha tea's role in human health are very limited — and there are risks to consider." These risks include allergic reactions or upset stomach, among others.
Second, over the long-term, strong brands are crucial and there is yet a Kombucha brand that matters. Can you name the leading Kombucha brand? Or any Kombucha brand? Our guess is that most people couldn't without a nudge from a search engine. In our view, Kombucha runs a similar risk to what we see in IPAs in craft beer: a consumer who is loyal to a category, but not necessarily a brand. Without a flagship brand, consumers will be fickle with little to inspire genuine loyalty.
Third, distribution remains spotty, even with on-line efforts. If Kombucha keeps marching ahead, the category will have a role to play in most retail formats which feature healthy food and beverage choices, from quick-serve restaurants to independent health food stores to Whole Foods to Big Box. For now, we're seeing decent but not overwhelming penetration. Looking ahead on distribution, the question is how will the product ultimately do in an average deli? A roadside diner? A rural convenience store? Is there simply too much of the consumer map that doesn't make sense for Kombucha, we wonder.
Kombucha's bright future is real, but not guaranteed. A solid niche entry might be the best case scenario.
For more about Kombucha trends see: