Press Release: Distilled Spirits and Wine Growing While Beer Retreats, Reports Beverage Marketing Corporation
7/29/2019
DISTILLED SPIRITS AND WINE GROWING WHILE BEER RETREATS, REPORTS BEVERAGE MARKETING CORPORATION
***
Overall U.S. beverage alcohol volume declines in 2018 as a result of beer's weak performance
NEW YORK, NY, July 2019: The U.S. beverage alcohol market declined slightly in 2018 and appears poised to do so again in 2019, according to newly released data from Beverage Marketing Corporation. However, these reductions in volume reveal more about the state of one segment of the category — beer — than they do about demand for adult beverages overall. Indeed, both wine and distilled spirits grew in 2018, as they tended to do in previous years, with spirits in particularly advancing with relative vigor.
Beer has struggled to grow in the United States for several years, as documented in BMC's U.S. Beer Guide. The anticipated downturn in 2019 would represent the third year of shrinkage in a row. In 2018, total U.S. beer volume stood at about 6.5 billion gallons, down about 0.7% from the preceding year. A similar rate of decline looks likely for 2019. Some beer sub-segments continued to grow. Craft beer, for instance, enlarged by more than 4% in 2018. While that was markedly slower than the double-digit growth rates regularly recorded just a few years earlier, it was sufficient to boost craft beer's share of beer volume above 14%. Light beer and imports accounted for larger shares, but the former contracted and the latter grew more slowly than craft beer. Flavored malt beverages, including the new twist on the concept, hard seltzers, grew much faster than craft, but were responsible for a much larger share of total volume.
In contrast to beer, wine achieved a long track record of annual advances, albeit at rather slow growth rates. While the segment had seen growth higher than 2% some years, its uptick in 2018 was rather small. Total volume reached 881 million gallons in 2018, and it could inch up to 885 million gallons in 2019. The majority of wine consumed in the United States is table wine, though sparkling wine has posted faster growth. Wine growth could accelerate in the near future, according to BMC's U.S. Wine Guide, in part as more accessible packaging types, including cans, proliferate.
Although the smallest in terms of volume, distilled spirits have been the standout segment in the U.S. beverage alcohol market in recent years. (Moreover, comparing the volume of the segments is of limited utility, since traditional serving sizes vary so significantly. What's notable is that wine and spirits having been gaining share at the expense of beer.) Spirits volume exceeded 540 million gallons in 2018 as a result of growth of 1.5% over the previous year's volume. Even more robust growth is expected for 2019. Vodka remained the largest sub-segment, but smaller one like Irish whiskey and tequila/mezcal have been growing quite rapidly lately while vodka has been underperforming compared to the overall spirits market, as chronicled in BMC's U.S. Spirits Guide.
"Looking at the overall beverage alcohol market, we're seeing an ongoing decline in consumption," notes Michael C. Bellas, chairman and CEO, Beverage Marketing Corporation. "This is due In large part to younger consumers, unlike previous generations, turning more and more to either low- or no-alcohol alternatives."
New York City-based Beverage Marketing Corporation is the leading consulting, research and advisory services firm dedicated to the global beverage industry.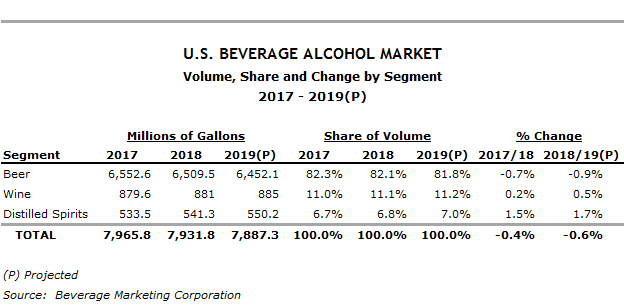 ###