Press Release: U.S. Liquid Refreshment Beverage Market Retail Dollars and Volume Grew Significantly in 2021, Reports Beverage Marketing Corporation
5/17/2022
U.S. LIQUID REFRESHMENT BEVERAGE MARKET RETAIL DOLLARS AND VOLUME GREW SIGNIFICANTLY IN 2021, REPORTS BEVERAGE MARKETING CORPORATION
***
Category rebounds following pandemic-impeded 2020 performance
NEW YORK, NY, May 2022: U.S. liquid refreshment beverage volume and retail sales grew forcefully in 2021, according to newly released preliminary data from Beverage Marketing Corporation. After the covid-19 pandemic contributed to slow volume growth and a decline in retail sales in 2020, as consumers spent more time at home, which made a sizeable impact on segments with historically large on-premise consumption, the liquid refreshment beverage market rebounded in 2021.
Overall, liquid refreshment beverage volume neared 36 billion gallons in 2021. Retail sales jumped from $182.4 billion in 2020 to $204.8 billion, largely because the restaurants, bars, stadiums, theaters and other on-premise venues that were closed or restricted for much of 2020 experienced increased traffic last year. The 12.3% increase in retail sales in 2021 also reflects, at least in part, higher prices. All but one of the liquid refreshment beverage segments saw volume enlargement in 2021 and all of them registered sales growth.
Carbonated soft drinks achieved their first increase in volume in 17 years in 2021 following an unusually large decline in 2020. Volume was 12 billion gallons, up from 11.6 billion gallons in 2020. Coca-Cola and Pepsi Cola retained their usual first and second positions among the 10 leading beverage trademarks in 2021, with Dr Pepper and Mountain Dew claiming third and fifth place. All the leading carbonated soft drink brands achieved volume growth, and Dr Pepper and sixth-place Sprite outperformed the overall refreshment beverage market.
Bottled water, the largest U.S. beverage category by volume, grew bigger still in 2021. The segment's core characteristics — convenient, healthful, natural and calorie-free — enduringly appeal to consumers, whether they're stocking up on essentials during a health crisis or resuming their preferred beverage-buying habits. Volume enlarged by almost 5%. While retail sales advanced by a double-digit rate, they grew slower than the refreshment beverage market as a whole. Bottled water had four entries among the leading trademarks in 2021, and three of them — Pure Life and Poland Spring (now both part of the BlueTriton Brands portfolio) and Aquafina — grew.
Though still comparatively small in size, some niche segments once again grew more robustly than most traditional mass-market ones. In terms of both volume and dollars, ready-to-drink (RTD) coffee, energy drinks and value-added water in particular moved forcefully in 2021. All three segments experienced double-digit growth rates for both volume and retail dollars. Sports drinks also outperformed the refreshment beverage category, and Gatorade ranked as the fourth largest refreshment beverage brand by volume. (Despite their muscular growth, no energy drink, RTD coffee or value-added water brand ranked among the leading trademarks by volume. No fruit beverage brand did either.)
Fruit beverages were the sole segment to see a decline in volume in 2021, though their retail sales increased. RTD tea underperformed the refreshment beverage category.
Four companies accounted for all of the leading refreshment beverage trademarks. PepsiCo had four brands. Coca-Cola had three while BlueTriton had two and Keurig Dr Pepper had one.
"The beverage market's historic resilience meant it was no surprise that it thrived as conditions began to improve," said Michael C. Bellas, chairman and CEO, Beverage Marketing Corporation. "Supply chain issues and inflation could create additional challenges, though the industry will surely demonstrate its characteristic ability to adapt."
New York City-based Beverage Marketing Corporation is the leading consulting, research and advisory services firm dedicated to the global beverage industry.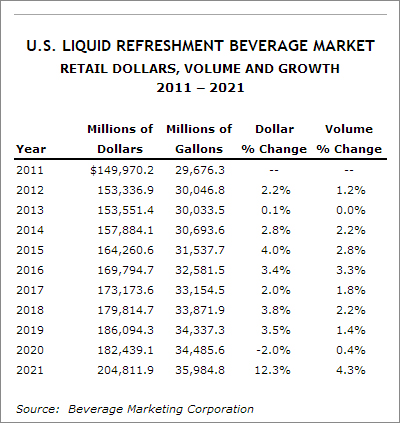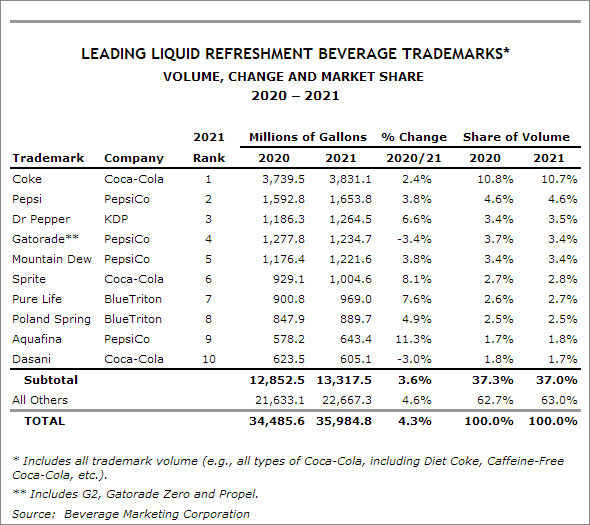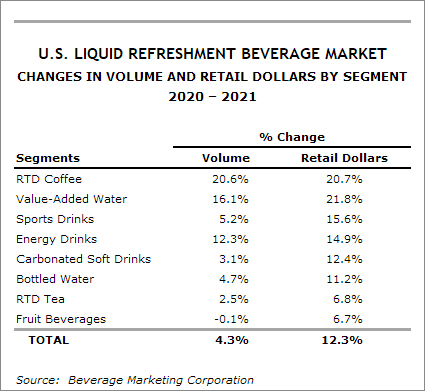 ###